Vizionați episodul »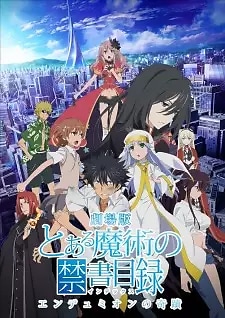 Alternative Titles:
English: A Certain Magical Index the Movie: The Miracle of Endymion
Japanese: 劇場版 とある魔術の禁書目録 エンデュミオンの奇蹟
Synonyms: Gekijouban Toaru Majutsu no Kinsho Mokuroku
Info :
Type: Movie
Episodes: 1
Status: Complet
Aired: Feb 23, 2013
Premiered: *
Broadcast: *
Producers: Geneon Universal Entertainment, Square Enix, AT-X, Warner Bros. Japan, ASCII Media Works
Licensors: Funimation
Studios: J.C.Staff
Source: Original
Genres: Action, Magic, Sci-Fi, Super Power
Duration: 90 min.
Rating: R - 17+ (violence & profanity)
Sinopsis
Povestea acestui film are loc în Orașul Academie spre finalizarea Liftului Spațial Endymion. Personajele principale, Kamijou și Index, întâlnesc o fată de level 0 pe nume Arisa. Magicienii atacă Orașul Academie căutând-o pe Arisa, dar o unitate a Orașului condusă de Shutaura se luptă cu ei. Ceea ce personajele noastre principale nu știu este că Arisa este cheia unui război dus într magicieni și lumea științifică.